The Four Week Acne Plan
Emma Coleman here - I am a Dermatology and Aesthetic RGN with many years experience also working as a wellbeing therapist. I founded Inner-Soul with the vision of bringing a holistic approach to I see clients of all ages experiencing acne in many different ways, and I take a very holistic approach to looking and feeling our best. Hope you enjoy my blogs! Click to email me.
I see clients of all ages experiencing acne in many different ways, and I take a very holistic approach to treatment. For instance, I am conservative with the use of longterm antibiotics - they actually weaken our immune system and fail to cure the root cause of the acne. I also understand it's not always possible to visit a Dermatologist and with this in mind, have developed a Four Week Acne Plan to help you take control of your skin and deal with your acne naturally at home.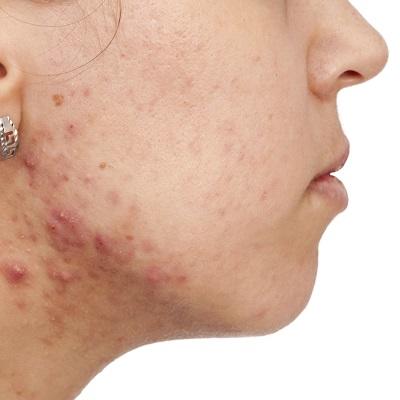 INFORMATION: The most common cause of acne is the blockage of the duct between the oil gland and the surface of the skin. There is more likelihood of this occurring if there are genetic links and hormonal changes - especially fluctuations in natural chemicals in the body called androgens e.g. testosterone, oestrogen, which peak and trough at various stages throughout each month in both sexes. Such hormonal changes can also cause oil secretions onto the skin to increase hugely, causing bacteria to multiply over skin's surface. RESEARCH: Sebum production can be affected by lifestyle factors; for example, studies have shown that prolonged stress and eating excessive carbohydrate and fats will increase sebum production, with diary being named as a main contributor. Vitamin A and E deficiencies have also been clinically proven to alter skin's sebum production. Using heavy, chemical-laden makeup and skin creams will also help to clog pores and I always recommend light, mineral cosmetics and skincare to all of my clients.
DIET - what we eat is clinically proven to effect our endocrine system and therefore our skin, with dairy being a main offender in congestion. Try phasing out dairy over a month period. Not an easy task but think of it as an investment into yourself for the longer term. If you are experiencing stress, caffeine will increase the already high levels of adrenaline in your body, so cut down to one morning cup daily, and please avoid supermarket bread (white and brown), completely. Instead, try wholegrain crackers with seeds and buy rye or spelt bread from your local bakery. Bulk up with protein snacks throughout the day and nuts, seeds and fruit to snack on. Also look at including a variety of colourful fruits and vegetables in your daily diet - these are generally high in antioxidants which will protect you inside and out. Keep a record of how much saturated fats and sugars are in your diet - cakes, crisps, etc - these will very likely be contributing to the issue as well. As a general guide I often advise clients to avoid all cakes and crisps Monday to Friday and have a couple of treats at the weekends.
SKINCARE - go natural and simplify - some traditional acne creams contain ingredients such as parabens which actively irritate our skin. Look for extracts high in Vitamins A, C and E such as Reship, Kiwi Seed, Carrot Root and Berries, and avoid scented products altogether. Inner-Soul's Barefaced Beauty Serum is available in an unscented option for this reason. In all cases avoid makeup where possible and if it is necessary, opt for mineral makeup. In all cases of acne, twice daily cleansing is essential - please note, and avoid exfoliants in the pustules stage. Never have microdermabrasion treatment as this will worsen the condition. Choosing gentle, natural cleansers over more aggressive types will help to balance your sebum production naturally, as our bodies are so finely tuned that stripping the skin of oils actually makes the ducts produce even more.
LIFESTYLE - poor sleep patterns and prolonged high levels of cortisol and adrenaline in the blood actively increase risk of acne outbreaks, yet it can seem like a huge task to try and break the cycles. A really quick and simple way of improving the situation is to use some aromatherapy in the form of essential oils. Invest in two bottles of chamomile or lavender (or one of each and mix them together), keep one at work or in your handbag, and the other at home. Dot onto tissues and keep them handy to inhale when you need to. At home, keep them next to the bed or burn them in your main living areas - your family will get the benefit too. Aromatherapy has been used for centuries and is proven to balance hormones, soothe and de-clutter the mind. It will encourage you to be more mindful of your breathing too.
DIY FACIAL - make an evening kitchen cupboard acne mask: put a teaspoon each of turmeric and honey into a bowl, mix well and apply to all affected areas - avoiding the eyes - leave for up to 15 minutes then rinse with tepid water and apply skincare. Repeat 3 times weekly. Turmeric is a powerful anti-inflammatory whilst honey is a natural humectant and antiseptic. Avoid touching the face excessively in between treatments as this introduces more bacteria.
SUPPLEMENTS - this is a tricky one, because if your gut isn't working properly the supplements will be a waste of time. Symptoms of poor digestion include unusual and erratic bowel movements, swinging between constipation and diarrhoea, plus excessive wind and bloating. If this is you, try to keep track of what is causing these symptoms. Also remember that stress has a profound effect on the stomach, intestines and colon! However, if you are looking for supplements a good probiotic is an excellent start.
Really hope this helps and if you want to ask me a question directly please e-mail me here Emma